CBD Gummy Squares, 10mg CBD each, 300mg Total
$25.00
CBD Gummy Squares, 10mg CBD each, 300mg Total
$25.00
Our gummies will provide all the benefits of CBD and satisfy your sweet tooth all at once.
If you are on the move and looking for an effortless way to introduce essential ingredients into your diet, Mirthemp CBD  Gummy Squares are the perfect option.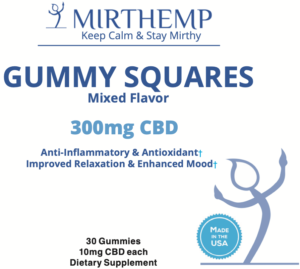 • Hemp oil-infused
• 30 gummies per bag / 10mg CBD each gummy / Total 300mg CBD
• THC-free
• non-GMO
• Gluten-Free
—
Supplement Facts
Serving Size: 1 Gummy / Servings Per Container: 30
*********************Amount Per Serving — % DV
Calories                                  10 ————— 0.8%
Total Carbohydrates             1g ————— *
Total Sugars                          1g ————— 0.8%
Includes 1g Added Sugars   1g ————— **
Naturally Occurring Cannabidiol Oil      10mg
* % Daily Value Based on 2,000 Calorie Diet
** Daily Value Not Established
Other Ingredients: Tapioca Syrup, Organic Cane Sugar, Pear Juice, Pectin, Citric Acid, Sodium Citrate, Malic Acid, Natural Flavors, Natural Colors (turmeric, black carrot).
Check Certificate Of Analysis
CBD Gummy Squares, 10mg CBD each, 300mg Total